Fuel Filler Concealment Kit

Fuel Filler Concealment Kit
Fuel Filler Concealment Kit. Hide your fill neck in your truck bed. Using a remote control, the hidden motor lifts a bed wood panel for easy access to your fill neck. Stainles...
For All Trucks
Gas Cap
GAS-CAP-STNLS
---
$37.00 Each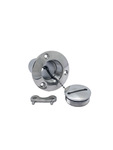 Gas Cap - Stainless Steel, Flush Cap
This cap has a O-ring seal flush surface mount. 1-1/2 inch with 3 inch neck flange diameter and only 0.80 inch thick includes a stainless key stainless chain to prevent loss o...
For All Trucks
---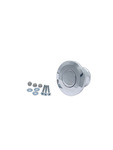 Gas Cap -Billet Aluminum "Pop-Up" Fill Cap For Truck Bed (Fuel Filler)
This is a polished billet aluminum "Pop-Up" gas cap. Great for flat truck bed applications 2-1/2 inch diameter. Twist cap counter clockwise slightly and center cap p...
For All Trucks