Floor Shift Rubber Cap
594349A 37-38
---
$39.00 Each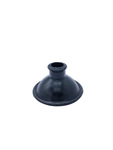 CHEVROLET Shifter, Rubber Cap On Floor Shift Tower
This is the rubber cap on the floor shift tower.
For 1937 1938 Chevrolet Cars
Floor Shift Trim Ring

CHEVROLET Floor Shifter Trim Ring (Stainless Steel) Retains Shift Boot, 3-Speed
This is the trim ring around the shifter boot on the floor. Made of stainless steel. Use this to retain the boot # 3651348A.
For All Chevrolet Cars and Trucks