Top Motor And Pump
4149729 46-54
---
$282.09 Each
CHEVROLET Convertible Top Motor & Pump. Mounts Under Rear Seat -Cabriolet
This is the convertible top motor and pump. It's a mount under the rear seat style. 12 volts. *NOTE* Use hydraulic fluid only. We carry it as our part # 603489T. (do not use s...
For 1946 1947 1948 1949 1950 1951 1952 1953 1954 Chevrolet Cars
---
4564580R 46-50
---
$500.00 Each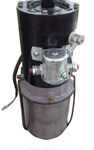 Convertible Top Motor Rebuild Service
Rebuild Service for Dura or Moraine Pumps With Either Auto-Lite Or Delco Motors. Send your top motor in for us to rebuild. If armature or gears need to be replaced additional ...
For 1946 1947 1948 1949 1950 Cars