Fender Marker (Guide)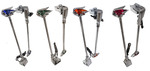 Lighted Fender Guide, Chrome With Green, Red, Blue Or Amber Inserts
Lighted Fender Guide With LED. Works 6V Or 12V , Chrome Housing With Green, Red, Blue Or Amber Inserts. Vintage Style Accessory For 1930's-1940's Cars & Trucks. Easy Installat...
For All Cars and Trucks
---

Light Bulb, Replacement Bulb For Fender Marker Lights
This 12 volt clear light bulb are for fender marker lights with a single contact with a threaded base. Threaded base, 3 watt 12 volt Buy an extra bulb and have it ready for an...
For All Cars and Trucks
---

CHEVROLET Fender Marker (Guide) -Illuminated, Milky Colored Lens
These are a pair illuminated fender guides that clamps to the wheel well of front fenders they are chrome plated with milky colored top and a clear lens, stainless fin 15.5'' ...
For 1937 1938 1939 1940 1941 1942 1944 1945 1946 1947 1948 1949 1950 1951 1952 1953 1954 Chevrolet Cars and Trucks