Fender Top Ornament

CHEVROLET Fender Top Ornaments (Original Accessory)
This original chrome accessory comes with the attaching hardware and has the correct contour through the length of the ornament. These are a great compliment to your hood orna...
For 1954 Chevrolet Cars
---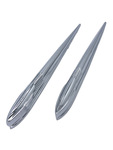 CHEVROLET Fender Top Ornaments - 1941
These are the chrome ornaments on top of the fenders on a '41 car. Sold as a pair.
For 1941 Chevrolet Cars
Fender Top Ornament Rubber Pad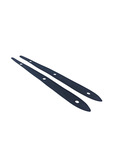 CHEVROLET Fender Top Ornament Rubber Pads - 1941
These rubber pads are for under the fender top ornaments to prevent paint scratches and squeaks / rattles. (2 pieces). *NOTE* Doesn't fit our new fender top ornament*
For 1941 Chevrolet Cars
Washer Fender Ornaments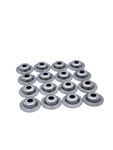 CHEVROLET Fender Moulding Washer -Hat Shaped
This hat shaped washer kit includes 16 pieces. Some known uses: - Front moulding bolts. - 41 fender top ornaments. - Washboards on fenders. - Dash trim for below gauges & cloc...
For All Chevrolet Cars