Rubber Plug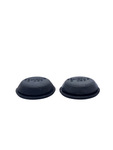 CHEVROLET Rubber Plug -Rear Of Rocker In Wheel Well
This is a rubber plug for the rear of rocker in wheel well (2 pieces).
For 1942 1944 1945 1946 1947 1948 Chevrolet Cars
Anti Squeak Gasket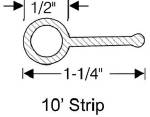 CHEVROLET Running Board To Apron Gasket (Beaded) Anti-Squeak (10 Feet)
This is a beaded rubber anti-squeak gasket between the running board to apron. Comes as a 10 foot length you cut to size.
For 1933 1934 1935 1936 1937 1938 1939 Chevrolet Cars
Running Board Mounting Hardware

CHEVROLET Running Boards-Bolt, Nut, Washers Fasteners
This complete mounting hardware kit for running board (bolt, nut and washers).
For 1937 1938 1939 Chevrolet Cars