Vacuum Hose

CHEVROLET Windshield Wiper Vacuum Hose - Wiper Motor To Engine
This is the vacuum hose from the windshield wiper motor to the engine. It has an inside diameter of 1/4 inch.
For All Chevrolet Cars and Trucks
Wiper Vacuum Hose

CHEVROLET Windshield Wiper Vacuum Hose -Wiper Control 3/16" I
This is the rubber vacuum hose for the windshield wiper control 3/16 inch inside diameter (sold in 2 ft lengths).
For 1942 1944 1945 1946 1947 1948 Chevrolet Cars
Washer Coordinator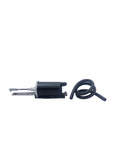 CHEVROLET Windshield Wiper Washer Coordinator (Nos)
This is a new old stock windshield wiper washer coordinator with instructions. (NOS).
For 1954 Chevrolet Cars