Heater And Defroster Knob

CHEVROLET Heater Door Knob - Ivory (Special Deluxe)
This is the Ivory colored replacement heater / defroster knob on the heater door for Special Deluxe.
For 1941 Chevrolet Cars
---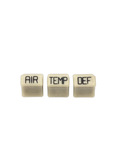 3129274A 51-52
---
$40.75 Set
CHEVROLET Heater Knobs - Temp, Defrost & Air. Ivory (3 Pieces)
This is an Ivory colored, 3 piece knob set for the heater / defroster / air control levers on the dash.
For 1951 1952 Chevrolet Cars
Cowl Vent Knob

CHEVROLET Cowl Vent Knob (Ivory Accessory)
This is the Ivory colored knob that goes on the cowl vent control arm. This was an accessory when new.
For 1939 1940 1941 1942 1944 1945 1946 1947 1948 Chevrolet Cars