Floor Front Mat

4092712 37-39
---
$129.69 Each
CHEVROLET Floor Mat (Front) - Black With Fisher Body Emblem
This is a floor mat for the front of your 1937-39 that has a Fischer body emblem.
For 1937 1938 1939 Chevrolet Cars
---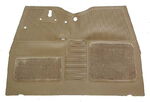 4133494A 41-48
---
CHEVROLET Floor Mat (Front) -Taupe Color With Carpet
This is a front floor mat for your 1941-48. Taupe color w/ carpet inserts & pad.
For 1941 1942 1944 1945 1946 1947 1948 Chevrolet Cars