Frame Adapters Chevy V8 Transplants
3700332R 49-54
---
$32.75 Pair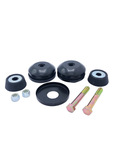 Motor Mount - Replacement Biscuit Style Pad For Motor Mount #3700332
These are V8 conversion replacement biscuit style pad for wing style motor mounts (our part #3700332). Also works with many vintage Hurst engine swap kits.
For All Cars and Trucks
---
3700332 49-54
---
$139.25 Pair

CHEVROLET Motor Mount Kit - (Bolt In) Chevy V8
This is a motor mount conversion kit for installing a big or small block Chevy engine in a 1949-54 car. The kit includes the motor mounts and frame brackets. This is a bolt-in...
For 1949 1950 1951 1952 1953 1954 Chevrolet Cars
Motor Mount Front
3700332B 52-54
---
$19.50 Pair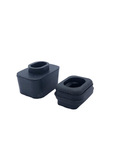 CHEVROLET Motor Mount - Center (1 Upper, 1 Lower)
Motor mounts 1952-54 car. There's 1 upper and 1 lower (2 per car). Order two sets for left and right.
For 1952 1953 1954 Chevrolet Cars